March 2015 marked the end of an era in Karratha (Western Australia) when the iconic Walkington Theatre was demolished, leaving the town without a stage and local performing arts enthusiasts without a home. 
Opened in 1986 the Walkington was a Pilbara cultural institution for 26 years, hosting movies, events, visiting artists, comedy festivals and most crucially; community theatre programs (including the Walkington Youth Theatre which gave award winning actor Joel Jackson his very first taste of the stage). The theatre was damaged by water ingress in 2011, the resulting mold issues left it empty and unused until 2015, when it was demolished, without a replacement.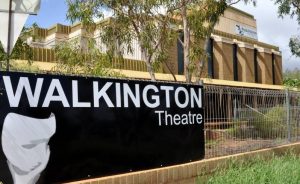 The years that followed were a boom time for the local resources sector, the town grew, rents skyrocketed and sadly the arts suffered. The Walkington was eventually demolished in 2015, but with the construction of a new facility still years away, Karratha was left without a theatre, without a community theatre group and without locally written and produced shows.  
Danielle Heaton (nee Chamberlain) moved to Karratha in 2014 with her partner (now Husband) Chris. Originally from the UK, Danielle  had  been involved with theatre for most of her life and  was disappointed by the lack of opportunity for local people to experience and get involved in performing arts in her new home, so set about making a change.  
Danielle said "I know for me, I've been involved with theatre since I was 10 and it's always those community-based theatre groups that give you those opportunities for experience, whether it's dance, directing or whatever it might be you probably wouldn't get unless you were a professional in a city,".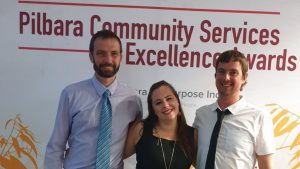 Back in the UK Danielle had been involved in numerous Pantomime productions and she identified the interactive, family friendly genre as ideal for a Karratha audience. Danielle's husband Chris agreed and wrote his entirely original script; "Pilbara Pan" to launch their new venture. In mid 2017 Danielle and Chris founded Pitter Pat Productions and got to work.  
Pilbara Pan debuted at the Red Earth Arts Precinct (Karratha's brand new, $60 Million performing arts venue) in July 2018 and was an instant hit. The show, which was directed by Danielle and involved over 50 local performers, crew and volunteers was so popular an additional performance was put on to meet demand.  
Reviews of the show demonstrated that Karratha had both an unmet need for local performing arts and the passion, talent and drive to produce high quality performances, equivalent to those seen in professional, metropolitan theatres. The success of Pilbara Pan launched Pitter Pat Productions into the spotlight and was followed by significant demand for more shows and performances.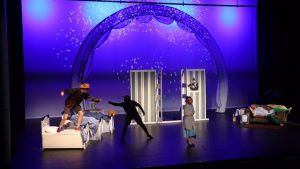 After a well-earned break work began on their next show… A full scale, Broadway style musical production; Little Shop of Horrors to be performed mid 2019. "We thought we'd try a musical because we have such talented cast members, and a musical is a bit more formal and a bit more skills-based (than a pantomime)," said Danielle.  
This performance represented a significant step up in skills for both the cast and the crew, featuring 19 musical numbers, intricate choreography, puppets and a giant man-eating plant. Little Shop of Horrors once again showcased the immense talent in the region and the sheer tenacity of people working together to turn vision into reality. Again, the show was met with praise and acclaim from the local audience, delighted to experience a Broadway style spectacular in their own back yard.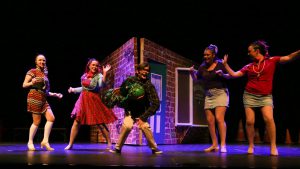 In addition to their major show, in 2019 Pitter Pat Productions successfully executed several other performance projects including: 
"Sing for your Supper" at the Millers Well Community Festival

 

"Conservatorium of Curiosity" 

(Haunted House Interactive Experience) 

at REAF Creep

. 

 

R

oving 

children's

 entertainment for the Red Earth Arts Festival (REAF)

 
They also launched the "Creative Collective" (a performance skills development initiative) with the IF Foundation and the City of Karratha.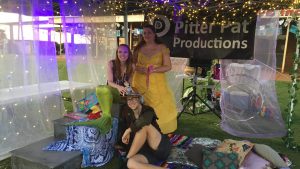 2020 was set to be Pitter Pat Productions biggest and best yet with another Pantomime "Dick Whittington Down Under" in progress to show in March, a major musical planned for October and numerous other performances and projects scheduled throughout the year.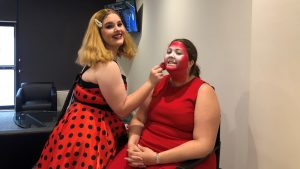 Unfortunately, "Dick Whittington" was cancelled mere days before its premier due to the Covid-19 related venue closures. Lead performer Camille Barton said "It was incredibly hard to walk away so close to the opening without actually getting to perform, but we knew it was for the good of our community and we vowed that the show would eventually, go on". 
Despite all the challenges, even during the lockdown period the Pitter Pat Productions team ensured the performing arts community stayed active and connected. Working with the Creative Collective and the City of Karratha socially distanced performing arts activities were made available to the community including a Zoom improv group, coaching and acting classes with Joel Jackson.  
By June 2020 restrictions had lifted and Pitter Pat Productions recommenced 'in-person' operations. The Creative Collective workshops returned and "Dick Whittington Down Under" was rescheduled to show in October, with the cast enthusiastically returning to rehearsal.  
 "After being so close to showtime back in March when Covid closed the theatre, literally just days before the show. It has been a true testament to those involved to dust themselves off after the bitter disappointment and to come back with renewed vigor, determined to make this an even better show the second time around." Said Director Chris Heaton of everyone involved. 
When asked what Pitter Pat's biggest achievement to date was Danielle replied, "The fact we have been running for three years and also the way we empower anyone to have a go at anything while supporting them to do it well".  On the next steps for Pitter Pat Danielle shared; "we are looking for a space to continue to collaborate, to achieve a residency at the Red Earth Arts Precinct and eventually engage a paid project manager, which will allow us to grow and reach more people in the region, making their dreams a reality".  
Dick Whittington Down Under is showing at the Red Earth Arts Precinct, Karratha on October 31st and November 1st 2020. Tickets available from www.redearthartsprecinct.com.au 
For more information about Pitter Pat Productions visit www.pitterpatproductions.org.au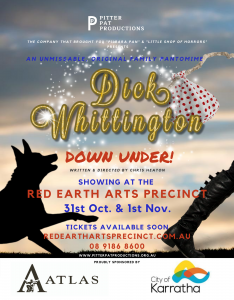 Written by: Camille Barton